Logon to your Google Mail, via Chrome and look for the below option on the address bar and choose Allow to Open all e-mail links.
Ensure, Google Chrome is closed and follow the steps below:
1. Open C:\Users\<your username>\AppData\Local\Google\Chrome\User Data\Local State with Notepad (or, any other text editor).
2. Locate "javascript": true, in protocol_handler section of the file, replace true with false and save the file.
3. Launch Chrome, visit Gmail and Sign in.
4. On the Windows System > Click Start > type "Default Programs" > Open "Associate a file type or protocol with a program" > lookup for "MAILTO" with GoogleChrome > Choose the program to open Mail using you Google Chrome Browser
5. Launch Lifesize Cloud for Desktop > Go to Invite and click "Invite" and choose the option "Email and Invitation" and it should redirect to your Google Mail account in Chrome.
What if, I don't see the Protocol Handler as displayed in the first screen:
If you were unable to see the Protocol Handler icon

, click the Chrome menu icon
in the top right corner of your browser, and choose "Settings."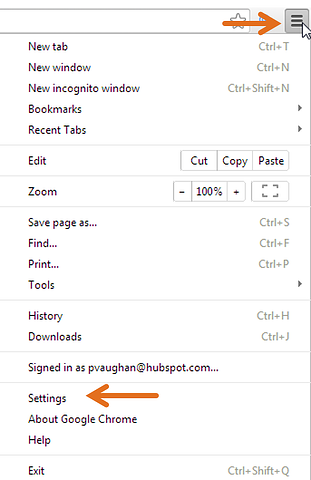 Click the "Show Advanced Settings" link at the bottom of the screen. Then click the "Content Settings" button under the "Privacy" header.

In the pop-up window, scroll down to the "Handlers" section and click the "Manage Handlers" button. Then select Gmail from the mailto dropdown, click
And Now try again.